Physical Therapy Conditions in Stuart, FL
At Precision Chiropractic and Rehab, we offer physical therapy services to help patients recover from a range of injuries and health conditions. Led by Dr. Kurt Burnhall and Dr. Chelsea Hollingsworth, our team includes avid athletes who are passionate about helping their patients reduce pain and improve function. We welcome patients from Stuart, Jupiter, Palm City and the nearby areas of Florida.
What Conditions Can Be Treated with Physical Therapy Treatments?
Physical therapy treatments are effective for a wide variety of body pains and conditions. The following is a partial list of some of the most common conditions that we treat using physical therapy techniques:
ACL Injuries
Ankle Sprains
Arthritis
Back Pain
Bowel Disturbances
Carpal Tunnel
Fibromyalgia
Headaches
Hip Pain
Neck Pain
Neuropathy
Osteoarthritis
Osteoporosis
Pinched Nerve
Pregnancy
Rotator Cuff Injuries
Sciatica
Scoliosis
Shin Splints
Spinal Disc Issues
Stress
Tennis Elbow
TMJ
Whiplash Injuries
And Much More!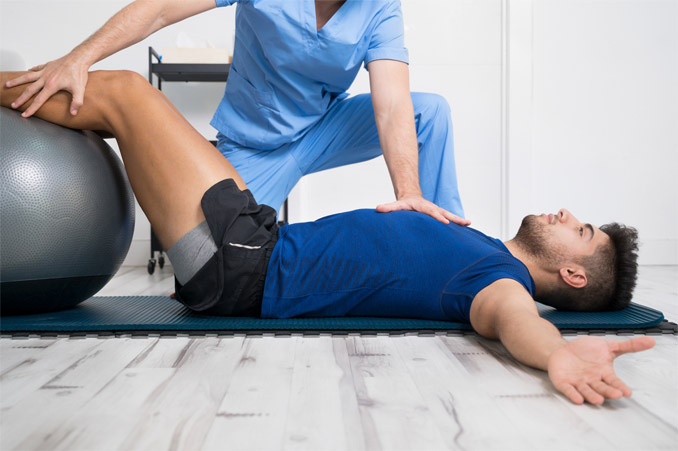 How are Physical Therapy Conditions Treated?
Physical therapy conditions are treated by strengthening the muscles in the body so that they can perform full, healthy and natural movements. Although physical therapy often involves hands-on massage for tension and pain relief, much of the improvement comes from exercises and stretches performed by the patient. Over time, physical therapy can help patients improve their strength and range of motion to achieve optimal mobility. Some of the physical therapy treatments we may recommend include:
Exercises
Physical therapy exercises are designed to improve strength, flexibility, endurance, and overall function. There are several types of physical therapy exercises, including:
Range of motion exercises: These exercises help to improve joint mobility and flexibility by moving the joints through their full range of motion.
Strengthening exercises: These exercises are designed to improve muscle strength and endurance by working the muscles against resistance.
Aerobic exercises: These exercises are designed to improve cardiovascular endurance and overall fitness.
Balance and coordination exercises: These exercises help to improve balance and reduce the risk of falls.
Functional training: This type of exercise involves practicing activities of daily living, such as walking, getting up from a chair, and lifting objects, in order to improve overall function.
Physical therapy exercises may be performed in our clinic under our guidance, or they may be prescribed for home use.
Manual Therapy
Manual therapy is a hands-on treatment technique used to improve joint mobility, reduce pain, and improve soft tissue flexibility. This type of therapy involves the hands to manipulate the joints, muscles, and soft tissues of the body in order to improve movement and reduce pain. Manual therapy is often used in conjunction with other physical therapy techniques in order to achieve the best possible outcomes.
Dry Needling
Dry needling is a technique used for the treatment of pain and movement impairments/dysfunctions. The technique uses a needle, without medication or injection, inserted through the skin into areas of the muscle. We use dry needling to release trigger points to relieve pain or improve range of motion. New research supports that dry needling improves pain control, reduces muscle tension, and normalizes dysfunctions of the motor end plates (the sites at which nerve impulses are transmitted to muscles). This can help speed up the patient's healing and return them to active rehabilitation.
How Much Does it Cost to Treat Physical Therapy Conditions?
The cost of physical therapy treatment can vary depending on the techniques involved and the extent of treatment needed to accomplish your treatment goals. During your consultation, Dr. Hollingsowrth will assess your treatment needs and develop a personalized treatment plan. At this point, we will be able to provide you with the costs associated with your treatment.
If you are struggling with physical therapy conditions, contact us today to schedule your consultation at Precision Chiropractic and Rehab. Led by Dr. Kurt Burnhall and Dr. Chelsea Hollingsworth, we welcome patients from Jensen Beach, Tequesta, Port St. Lucie and the surrounding areas of Florida.