Chiropractic Treatments in Stuart, FL
Precision Chiropractic and Rehab is the leading practice for chiropractic care in Stuart, Palm City, Jupiter and the surrounding areas of Florida. Led by Dr. Kurt Burnhall and Dr. Chelsea Hollingsworth, our team includes avid athletes who are passionate about keeping their community healthy. Chiropractic treatments are a key component of helping patients reduce pain and improve function.
What is Chiropractic Treatment?
Chiropractic treatment is a field of health care that focuses on the body's ability to heal itself. Instead of relying on drugs or invasive treatments, chiropractic care is designed to optimize the body's healing abilities. This is often done using manual therapies, which can relax and empower the body to improve a range of symptoms and conditions.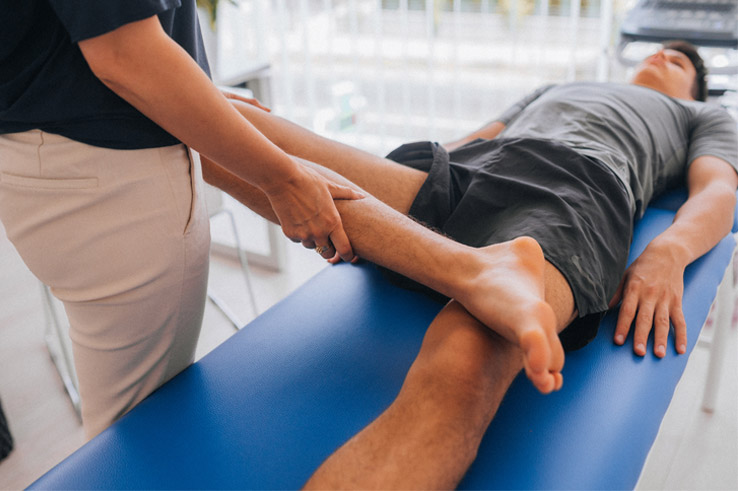 What Do Chiropractors Treat?
Chiropractors treat a wide variety of conditions. Some of the most commonly treated conditions include chronic and acute pain, but can also include:
Stress & anxiety
Headaches
Pinched nerves
Trouble sleeping
Scoliosis
And much more!
How Do I Know If I Need a Chiropractor?
If you suffer from chronic pain or any of the conditions mentioned above, you could benefit from visiting a chiropractor. Typically, anyone experiencing back pain, neck pain or other joint pain without a clear underlying cause can benefit from chiropractic treatments. However, chiropractors can treat much more than just joint pain. You can also benefit from a chiropractor if you are experiencing headaches, trouble sleeping, digestive problems and many forms of chronic pain.
What are the Benefits of Chiropractic Treatment?
Chiropractic treatments have numerous benefits, with the largest being that they can reduce pain in the body without drugs, surgery or other invasive treatments. More specific benefits include:
Improved posture
Reduced pain
Reduction in headaches
Improved range of motion and mobility
Increased joint health
Enhanced healing abilities
How Does Chiropractic Treatment Work?
Chiropractic treatment works by bringing the spine and nervous system into harmony. The relationship between them is incredibly important due to their physical location and overall importance to health. The nervous system is responsible for controlling many functions in the body, regulating pain and coordinating the body's healing abilities. The spinal cord protects much of the nervous system through the spinal cord, and therefore, any spinal injuries or symptoms can extend to affect the rest of the body.
At Precision Chiropractic and Rehab, we offer a number of treatment solutions to accomplish various treatment goals. These include:
Active Release Techniques
Active Release Techniques or ART is a myofascial release technique that utilizes patient movement to treat problems with muscles, tendons, ligaments, fascia and nerves. Dr. Kurt Barnhill specializes in Active Release care for conditions related to the upper body, lower body, spine and nerve specific problems. This technique involves a protocol based hands on approach to treating and resolving stubborn chronic pain and acute pain.
Graston Technique Goals
The general goals of the therapy are to reduce the patient's pain and increase function through a combination of:
Breaking down the scar tissue and fascia restrictions that are usually associated with some form of trauma to the soft tissue (e.g., a strained muscle or a pulled ligament, tendon, or fascia).
Reducing restrictions by stretching connective tissue in an attempt to rearrange the structure of the soft tissue being treated (e.g., muscle, fascia, tendons, ligaments).
Promoting a better healing environment for the injured soft tissue.
Kinesio Medical Taping
Kinesio tape, as it's often called, got its name because it is used to aid muscle movement. It's a thin, flexible tape that is meant to relieve pain, reduce swelling and inflammation, and provide support to joints and muscles. K-tape was originally developed as a way to enhance athletic performance.
Class IV Laser
Laser therapy is a medical treatment that uses focused light to stimulate a process called photobiomodulation, or PBM. This treatment triggers a biological cascade of events that leads to an increase in cellular metabolism, decrease in pain, reduction in muscle spasm, and improved microcirculation to injured tissue. The treatment is FDA cleared and provides patients a non-invasive, non-pharmacological alternative for pain relief!
How Many Chiropractic Treatments Will I Need?
In many cases, chiropractic treatment is a long-term plan that includes treatment sessions on a weekly or bi-weekly basis. Some patients may benefit from life-long chiropractic care, especially when used to manage symptoms of chronic pain and related conditions. Other patients may be able to find relief after a few weeks or months of treatment, at which point chiropractic care is no longer needed. During your consultation, Dr. Barnhill will assess your needs and develop a personalized treatment plan. This will include an estimated timeline of your treatment, although your plan may change over time depending on the progress you make.
What Will Chiropractic Treatment Cost?
The cost of chiropractic treatment can vary depending on the techniques involved and the extent of treatment needed to accomplish your treatment goals. During your consultation, Dr. Barnhill will assess your treatment needs and develop a personalized treatment plan. At this point, we will be able to provide you with the costs associated with your treatment.
Precision Chiropractic and Rehab serves the Stuart area and nearby towns of Palm City, Jensen Beach, Hobe Sound, Port St Lucie, Tequesta and Jupiter, FL. Dr. Kurt Barnhill and Dr. Chelsea Hollingsworth are committed to bringing you long-term relief from pain with affordable treatment options. Call us at 772-223-0447 to set up a consultation today.