Massage Therapy in Stuart, FL
Precision Chiropractic and Rehab is your premier practice for massage therapy in Stuart, Palm City, Hobe Sound and the surrounding areas of Florida. Our practice offers massage therapy with the help of Marie Coccaro, a state-licensed massage therapist. We offer massages for both localized and full body therapies.
What is Massage Therapy?
Massage therapy is a hands-on therapeutic technique that involves kneading, pressing, and manipulating soft tissues in the body. At Precision Chiropractic and Rehab, massage therapy is often used as a complementary treatment to chiropractic adjustments and other rehabilitation techniques to help relieve pain, reduce muscle tension, and promote overall wellness. Our services are performed by Marie Coccaro, a licensed massage therapist who has received specialized massage training at the Alpha Institute of the Treasure Coast. She works closely with Dr. Kurt Barnhill and Dr. Chelsea Hollingsworth to develop individualized treatment plans that address each patient's unique needs.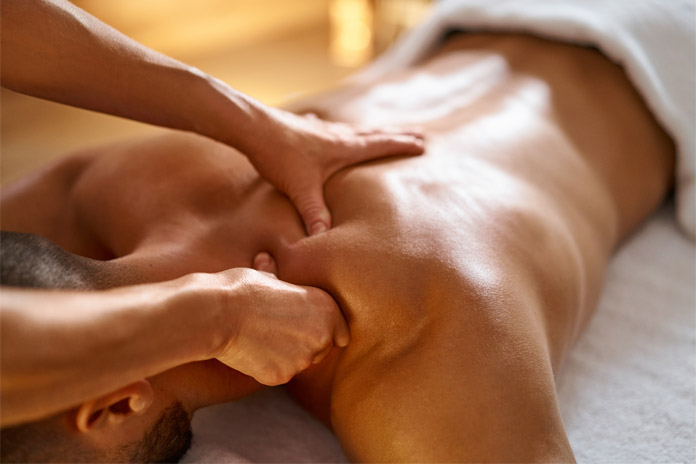 What is Massage Therapy Used to Treat?
It can be used to treat a wide range of conditions, including:
Chronic pain
Sports injuries
Headaches
Stress-related tension
Preventative measures
What are the Benefits of Massage Therapy?
It offers many broad wellness benefits but can also help patients manage pain and recover from injury. These benefits include:
Pain relief
Reduced muscle tension
Improved circulation
Enhanced immune function
Reduced stress and anxiety
Improved range of motion
Improved sleep
What Types of Massage Therapy Treatments are Available?
Swedish Massage
This is a gentle, relaxing form of massage therapy that uses long strokes, kneading, and circular movements on the topmost layers of muscles. It's a great option for people who are new to massage or those who want to experience deep relaxation. Swedish massage can help to improve circulation, reduce muscle tension, and promote overall relaxation and wellbeing.
Deep Tissue Massage
This type is designed to target the deeper layers of muscles and connective tissue. It uses slower, more forceful strokes and friction techniques to reach deep into the muscles and fascia. Deep tissue massage can help to relieve chronic muscle tension, reduce inflammation, and improve flexibility.
Trigger Point Therapy
This therapy focuses on identifying and releasing trigger points, which are areas of tightness or knots in the muscles that can cause pain or discomfort. Trigger point therapy involves applying pressure to these specific points to release tension and improve range of motion.
Cupping
This form of therapy involves placing special cups on the skin to create a suction effect. It's used to promote circulation, relieve muscle tension, and reduce inflammation. Cupping is also believed to help detoxify the body and promote healing.
Sports Massage
This type of therapy is designed specifically for athletes and people who engage in physical activity. Sports massage can help to improve athletic performance, reduce the risk of injury, and speed up recovery time after a workout or competition. It can also help to relieve muscle soreness and improve flexibility.
How Much Does Massage Therapy Cost?
The cost can vary depending on the techniques involved and the extent of treatment needed to accomplish your treatment goals. During your consultation, we'll assess your treatment needs and develop a personalized treatment plan. At this point, we will be able to provide you with the costs associated with your treatment.
To learn more about our treatments and determine if you can benefit from massage therapy, contact us today. Precision Chiropractic and Rehab serves the Stuart area, including the nearby towns of Jensen Beach, Port St Lucie, and Jupiter, FL. Our team is committed to bringing you long-term relief to maximize your quality of life.