Physical Therapy Treatments in Stuart, FL
Precision Chiropractic and Rehab is your premier practice for physical therapy in Stuart, Palm City, Hobe Sound and the surrounding areas of Florida. Led by Dr. Kurt Burnhall and Dr. Chelsea Hollingsworth, our team includes avid athletes who are passionate about keeping their community healthy. Physical therapy treatments are a key component of helping patients reduce pain and recover from injuries of all kinds.
What is Physical Therapy Treatment?
Physical therapy is a field of health care that focuses on restoring functional movements and mobility while reducing pain. Instead of relying on drugs or invasive treatments, physical therapy treatments combine hands-on care and exercises to strengthen the body and restore it to optimal function.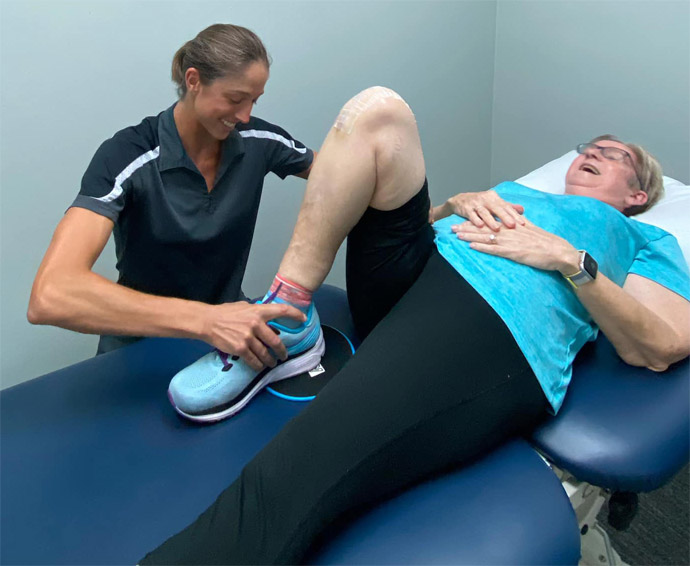 What Do Physical Therapists Treat?
Physical therapists treat a wide variety of conditions. Some of the most commonly treated conditions include sports injuries, rehabilitation and chronic and acute pain, but can also include:
Headaches
Vertigo
Back and neck pain
Limited range of motion
Strains and sprains
Joint conditions and injuries
And more!
How Do I Know If I Need a Physical Therapist?
If you are suffering from sports injuries or any of the conditions mentioned above, you could benefit from visiting a physical therapist. Typically, anyone experiencing limited range of motion or pain during movement without a clear underlying cause can benefit from physical therapy treatments.
What are the Benefits of Physical Therapy Treatments?
Physical therapy treatments have numerous benefits, with the largest being that they can reduce pain and restore mobility without drugs, surgery or other invasive treatments. More specific benefits include:
Avoiding the need for surgery
Reduced pain
Accelerated recovery from injury
Improved range of motion and mobility
How Does Physical Therapy Treatment Work?
The goal of physical therapy treatment is to strengthen the muscles in the body so that they can perform full, healthy and natural movements. Although physical therapy often involves hands-on massage for tension and pain relief, much of the improvement comes from exercises and stretches performed by the patient. For this reason, a large component of physical therapy treatment involves education. Over time, physical therapy can help patients improve their strength and range of motion to achieve optimal mobility.
Additionally, at Precision Chiropractic and Rehab, we offer the following treatments:
Gait Analysis
Gait analysis is an assessment of the way the body moves, usually by walking or running, from one place to another. The purpose of gait analysis is to detect any abnormalities in locomotion. An individual's gait is a combination of complex functions involving use of the body's visual, somatosensory and vestibular systems. Problems within any of these systems, as well as problems in the joints involved, can lead to postural and gait abnormalities.
Dr. Chelsea is a Level 1 Certified Running Gait Analyst. She analyzes gait and can provide programs to improve motor control, mobility, and technique specific to each runner, or athlete who runs, based on their movement patterns.
Dry Needling
Dry needling is a technique physical therapists use for the treatment of pain and movement impairments/dysfunctions. The technique uses a needle, one without medication or injection, inserted through the skin into areas of the muscle.
Physical therapists use dry needling to release or inactivate trigger points to relieve pain or improve range of motion. New research supports that dry needling improves pain control, reduces muscle tension, and normalizes dysfunctions of the motor end plates, the sites at which nerve impulses are transmitted to muscles. This can help speed up the patient's healing and return them to active rehabilitation.
Kinesio Medical Taping
Kinesio tape, as it's often called, got its name because it is used to aid muscle movement. It's a thin, flexible tape that is meant to relieve pain, reduce swelling and inflammation, and provide support to joints and muscles. K-tape was originally developed as a way to enhance athletic performance.
Class IV Laser
Laser therapy is a medical treatment that uses focused light to stimulate a process called photobiomodulation, or PBM. This treatment triggers a biological cascade of events that leads to an increase in cellular metabolism, decrease in pain, reduction in muscle spasm, and improved microcirculation to injured tissue. The treatment is FDA cleared and provides patients a non-invasive, non-pharmacological alternative for pain relief!
How Many Physical Therapy Treatments Will I Need?
In many cases, physical therapy treatment is a long-term plan that includes treatment sessions on a weekly or bi-weekly basis. While many patients may be able to find relief after a few weeks or months of treatment, some patients may benefit from lifelong physical therapy care, especially those who struggle with chronic conditions. During your consultation, Dr. Hollingsworth will assess your needs and develop a personalized treatment plan. This will include an estimated timeline of your treatment, although your plan may change over time depending on the progress you make.
What Will Physical Therapy Treatment Cost?
The cost of physical therapy treatment can vary depending on the techniques involved and the extent of treatment needed to accomplish your treatment goals. During your consultation, Dr. Hollingsworth will assess your treatment needs and develop a personalized treatment plan. At this point, we will be able to provide you with the costs associated with your treatment.
Precision Chiropractic and Rehab serves the Stuart area and nearby towns of Palm City, Jensen Beach, Hobe Sound, Port St Lucie, Tequesta and Jupiter, FL. Dr. Kurt Barnhill and Dr. Chelsea Hollingsworth are committed to bringing you long-term relief from pain with affordable treatment options. Call us at 772-223-0447 to set up a consultation today.